Botox Treatment Fort Lauderdale & Plantation, FL
As we age, the frown lines and wrinkles on our faces make us feel nostalgic for our younger skin days. It often leads to feelings of self-consciousness and underconfidence. According to studies, 31% of people want to look young to gain their lost confidence. It ultimately impacts your peace and happiness.
Botox injections can re-boost your self-confidence. The treatment works on those lines and makes your wrinkles look less obvious.
Repeated muscle movement during our everyday expressions develops frown lines and crow's feet- aka, frowning and squinting. Botox injection relaxes those muscles and softens expressions. It is a highly effective, quick, and convenient way to reduce fine lines and wrinkles.
Contact our dermatologists at our Neurologist Fort Lauderdale office to help you decide on cosmetic treatment.
Why Choose Dr. Jeff Steinberg MD For Botox Injection in Fort Lauderdale?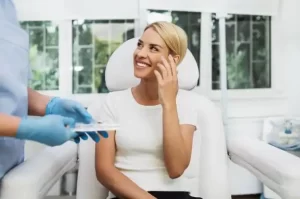 Dr. Jeff Steinberg MD has purchased the Botox directly from the certified manufacturer of the official product. He is a trained and certified practitioner that incorporates the best techniques at specific facial areas to provide you with desired optimal results. He is an expert at the procedure and his treatment causes minimal discomfort to the patients.
Be aware, getting botox injections from an unqualified person in a non-clinical setting is not worth taking the risk. Non-professional injectors do not have enough training and experience as certified dermatologists. There is a tremendous amount of risk and you could get stuck in irreversible complications.
In Fort Lauderdale, patients trust Dr. Jeff Steinberg MD for their facial and aesthetic goals. We believe in delivering a natural and refreshed look without any complication and hence, discuss the patients' concerns at lengths to deliver satisfying results.
Areas to get Botox Treatment in Fort Lauderdale

The Food and Drug Administration (FDA) has approved the use of Botox for improving the look of superficial wrinkles and fine lines and other neuromodulators like Dysport and Xeomin, and for treating the glabellar region (frown lines).
Botox treatment is beneficial for:
Gummy Smile Reduction

Masseter Reduction for jawline slimming and improvement of TMJ pain

Mentalis Muscle for chin dimpling

Platysma muscle for neck wrinkles and muscle banding aka the "Nefertiti Lift"

Trapezius muscle to reduce muscle tension
Consult Jeff Steinberg MD today for Expert Botox Treatment in Fort Lauderdale!
With our years of experience, we bring satisfying results to the table. Our aim is to keep the results subtle and natural which lets you restore your self-esteem. If you are interested for Botox treatment in Fort Lauderdale and Plantation, enquire with Dr. Jeff Steinberg MD.
FAQs
What kind of doctor do Botox injections?
Botox injections can be performed effectively by plastic surgeons, dermatologists, ophthalmologists, and otolaryngologists. They have the specialized knowledge and practice of the anatomy of the facial muscles and also have an artistic sense for that.
How do you find a good Botox doctor?
Researching for a good Botox practitioner is hard since there are so many options available. However, finding a good botox doctor is important. So here are some tips for beginners to find a good botox doctor:
Do Research
To prepare yourself for botox treatment, it is helpful to know everything about the process in advance, Therefore, watch YouTube videos, read extensively, and visit websites of botox doctors before visiting the clinic. Once you have some prior knowledge, you can better understand what they are offering.
Opt for Trained Practitioners
Injecting botox is the work of an expert. Make sure you get treatment under the administration of a qualified and trained botox practitioner. Research for a clinic with qualified and trained staff.
Find Information Online
Search for the best botox treatment in Fort Lauderdale over the internet. It will get you the information about your nearby best botox skin and botox hair clinic.
Check for the Practice History
Confirm with different sources that the doctor is in good standing with state and federal agencies. Ensure that they do not have any history of malpractice claims or disciplinary actions. For hassle-free botox treatment, go for a doctor with a clean background and history.
Does insurance cover Botox for wrinkles?
Medical insurance may vary. Some medical insurance covers botox treatments for wrinkles or cosmetics purposes. Ask your insurance provider about your coverage.
How much does Botox Cost in Florida?
Botox treatment is highly cost-effective when compared to other surgical treatments. Jeff Steinberg MD in Fort Lauderdale keeps the costs to a minimum and passes the savings on to patients.
How long does Botox last?
Generally, botox treatment lasts for 3-4 months, but in few patients, it lasts longer for about 4-6 months. It lasts long after the second treatment. Follow the instructions mentioned by your dermatologist for better and long-lasting results.