Fort Lauderdale Neck Pain Treatment

Your neck constitutes the cervical spine which is made up of vertebrae. The vertebrae are separated by discs. The other structures include muscles, nerves, tendons, and ligaments. In case of cervical degeneration, cervical disc herniation, cervical spine stenosis, muscle strain, arthritis, or trauma, you may feel neck pain in any of the structures. About 15% of U.S. adults have neck pain in the course of 3 months.
Lower Back Pain Treatment Fort Lauderdale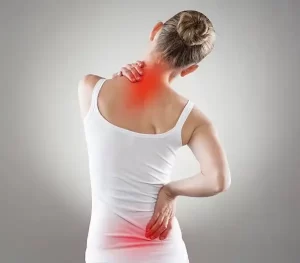 Experts say that back pain is so common that up to 80% of the population suffers back pain at some point in their lives. It can range from simple and bearable pain to sudden and extreme pain. In the majority of cases, back pain is a symptom of an underlying medical condition.
Our Neck & Lower Back Pain Treatment Services in Fort Lauderdale & Plantation
Feet & Ankles
Be it swelling or structural changes, we diagnose your pain after a thorough examination.
Hand/Wrist
We check for tenderness, swelling, or deformity and provide relevant treatment for your situation.
Head
Be it a migraine, cluster headaches, or tension-type headaches, our expert doctors will provide you with quick treatment.
Hips
We help you get relieved from the traumatic hip pain that interferes with your daily life.
Knees
We facilitate every knee treatment service – from physical therapies to injections to stem cell therapy.
Neck
Be it a nerve compression, muscle strain, or a worn joint, our neck expert knows how to cure it.
Other Pain Conditions
Our team of doctors keeps themselves well-updated with modern treatment technology. We treat every pain condition by trying to keep you comfortable at all times.
Pain Management
If you suffer from chronic pain, we take an instant approach to ease your suffering and improve your quality of life.
Shoulder & Elbow
We extend our support through the R.I.C.E. method, OTC anti-inflammatory medications, and other methods to relieve your pain.
Spine
Our lower back pain treatment in Fort Lauderdale solves your spine issues by diagnosing the cause of pain.
Sports Medicine
We provide every medical support system to keep you healthy – from physical therapies to nutritionists. ​
Symptoms Neck & Lower Back Pain Patients Experience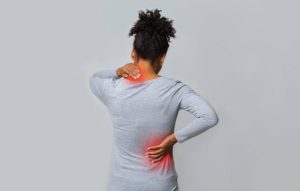 A neck pain patient may experience all or some of the following symptoms –
Stiffness in the neck muscle may feel like spreading to your shoulders, upper back, and arms.

Headache

Pain and/or weakness that shoots down the arm

Unable to turn your head and neck easily

A sensation of numbness and/or tingling in the arms is called Paraesthesia.

Weakness in the shoulder, arm, or hand.

A feeling of numbness in the arm, fingers, or hand.

 Sharp, burning pain near the pinched nerve
When to See a Doctor for Neck Pain?
In the majority of cases, neck pain improves gradually by self-care at home tips. To relieve tension, try these –
Put an ice pack on the strained area of the neck daily.

Take a hot shower.

Stretch your neck muscles by turning your head and neck in all directions.

Give a good massage to the sore neck areas.

Keep your back supported while sitting or working on the computer.
If you still experience pain, you need to schedule an appointment with your neck pain doctor. Dr. Steinberg performs both nonoperative and operative treatments to cure your pain.
Treatments for Neck & Lower Back Pain in Fort Lauderdale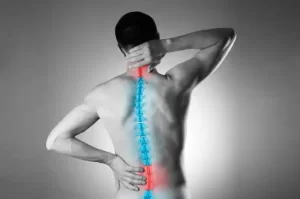 The treatment for every patient varies depending on the severity and root cause of the pain. It includes –
Over-the-counter and prescription medications

Injections of pain-relieving medicine

Cervical collar and cervical pillow

Complementary therapies such as acupuncture, herbal remedies, massage, yoga, and Pilates.

Cervical spine surgery, only in severe cases
Contact Us Today to Get Effective Back Pain Treatments in Fort Lauderdale!
Our Neurologist Fort Lauderdale Dr. Jeff Steinberg is one of the leading neck & lower back pain specialists. Our team extends exceptional care services to patients by providing individual attention.
If you need help to recover from your neck or back pain, reach out to us at steinymd@gmail.com or call us. We're just a dial away! Call Us Now.
FAQs
What is the best treatment for back and neck pain?
For minor back and neck pain treatment, try home remedies first on a regular basis. It may include slow range-of-motion exercises, massage in painful areas, and heat and ice treatments.
Why do my lower back and neck hurt?
The reason behind your neck and back pain could be –
What is a neck and spine doctor called?
A neck and spine doctor is known as an orthopedist.
Does drinking water help with neck pain?
Yes, staying hydrated during the day may prevent neck pain. Dehydration can cause neck stiffness and neck pain.
What doctor treats neck and back pain?
You can visit a chiropractor near me, a physician, an orthopedist, or a neurologist for primary care of neck and back pain treatment.
Call us at (954) 329-0053 to schedule an appointment at Jeff Steinberg MD today.